Decennial Gothica Radio is commercial-free and plays a wide range of melodic dark tunes, gothic metal and symphonic metal, from early genre-forgers to bleeding-edge bands emerging onto the scene. We support new and independent goth acts but also get the latest music by popular bands directly from the major record labels. We promise you will discover countless new favorite bands when you listen to our gothic and symphonic metal mix.
Thousands of listeners each month join us on the dark side... Tune in and belong with us!

Meet Anna Sadashi Li, our new DecenniGirl! Read about her at the bottom of this page.


USING A MOBILE? CLICK HERE TO GO TO OUR RADIO'S MOBILE VERSION!


NEED YOUR GOTHIC/SYMPHONIC FIX?
CHOOSE ONE OF THESE STREAMING RADIO LINKS
OR USE THE FLASH RADIO PLAYER BELOW

DGR FLASH RADIO PLAYER





Please submit ALL song requests through this form, which enables us to remotely queue your track on the radio even if a DJ is not in the studio. This will USUALLY* get your songs on the air quicker than if you emailed us the request.
*If you request a song that we do not have in our active radio's playlist, the request will have to wait until a DJ is in the radio studio to pull it from our vast archives of gothic and symphonic metal.

Loading ...
Show your support by liking
Decennial Gothica Radio on Facebook!

Get the latest Gothic music news, videos, and DJ updates on our Facebook Page!

Our Newest DecenniGirl
Congratulations to our new DecenniGirl model, Anna Sadahi Li! We are honored and thrilled to have this beautiful Japanese / Taiwanese girl as the new face of Decennial Gothica Radio. Anna is a fiercely driven model from California who has a growing list of stunning photoshoots that demonstrate her ability to work the lens and capture the imagination. To produce the original photo, Anna worked together with a talented photographer and crew, so check out their credits below!

We had MANY awesome photo submissions for our DecenniGirl Casting Call and it was really hard to choose one, but Anna's bold look, gripping wardrobe and unique watery setting matched some ideas we had for the new website design. We then recreated the website graphics around her photo to create an intriguing, mysterious scene that suggests a story.

We might have another DecenniGirl casting call in the late summer or autumn of 2017, so keep an eye out for that!

CREDITS:
Model: Anna Sadashi Li
IG@Anna_Sadashi
Anna's FACEBOOK page
Anna's MODEL MAYHEM page

Photographer: Ricky Rob
Ricky Rob's website
Ricky Rob's MODEL MAYHEM page

Makeup: Michelle Lara - IG@Michellelarabeauty
Hair: Anthony Flores - IG@beautybyaflores
Crown: Tothology



Learn more about gothic metal and symphonic metal.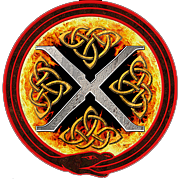 HELP THE DJs PAY FOR RADIO BROADCASTING EXPENSES!
CHECK OUT OUR CUSTOM SHIRTS AND MERCH